Adult Hula Hoop Classes in Vancouver are temporarily on hold for fall 2020 as I search for an instructor to teach for Radiant Life.
Adult classes will start in Kelowna in Fall 2020/Winter 2021.
Hula hoops are provided for class use with the option to buy your own brand new hoop if you really love it. We will use heavy waist hula hoops and light polypro hand hoops.
BEGINNER ADULT HOOP CLASSES
Brand new to hooping? Already have some skills? This is the hula hoop class for you!
Each of our adult hula hoop classes starts with stretching and learning waist hooping for cardio. Our focus is split between waist hooping and learning fun tricks. Each week we will review our tricks from the previous week to ensure complete understanding before moving forwards.
You will learn tricks which flow together well and by the end of the series I will have you dancin' with your hoop!
This class is designed for those who already have a firm grasp of waist and hand hula hooping. If you have already taken a class with me you are ready to do intermediate!
We start with stretching and waist/chest/knee hooping cardio. Then we move into dance flow, learning fun tricks and transition moves. Our focus will be on putting our moves together, learning more tricks, and smoothing out the ones we may already know. Each week we will review our tricks from the previous week to ensure complete understanding moving forwards.
Participants are challenged to use their anti flow and the opposite hand to learn tricks. There's always the option to try adding a second hoop! I do my best to make sure every participant is being challenged at their level!
INTERMEDIATE COMBOS
Our focus in this class is putting moves together to make fun and sassy combos. You will learn some new tricks and perfect some already in your repertoire. The focus is on transitions, flow, and dance rather than filling our bag of tricks.
This class is ideal for anyone who has taken classes with me before, or if you've been practicing solo and are ready to launch your hoop skills into overdrive!
I move at the speed of the class and there may occasionally be tricks that take a few weeks to learn. We will always revisit what we have learned to get the skills into our muscle memory.
I designed this class for brand new double hoopers, though it is useful for all double hoopers! We will start with the basics of doubles movement: turning and grip switches, split time, and same time hand spinning in the same direction and opposite direction.​
We will also learn doubles tricks, and work on smoothing them out and putting them together.  You can be flowing by the end of the series! Lots of doubles moves originate from single hoop moves, so you will find lots of the tricks easily achievable with existing single hoop knowledge.
As always in my classes, we move at the speed of the students and there are options to be challenged at your level.
If you have a good grasp of the hula hoop already, or consider yourself a trickster then this is the class for you!
We will be learning choreographed combos that flow together easily with a focus on doubles tricks and transitions. Single hoop tricks build on current skills and will be worked in to flow.
In this class, we will start with light stretching then warmup cardio waist, chest, and knee hooping. This includes moving it up and down the body, and anti flow direction.
Depending on the class skill level, these hula hoop classes can focus on doubles, triples, quads, and foot hooping.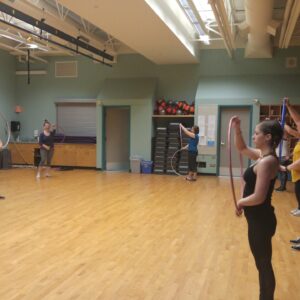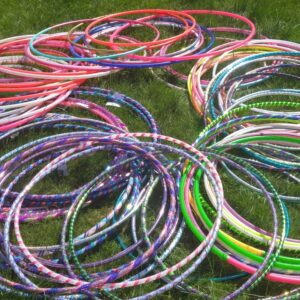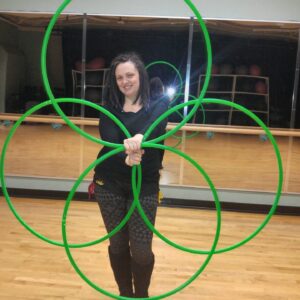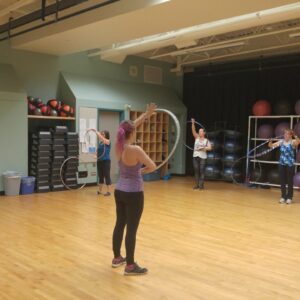 Ready for your new hula hoop? Be sure to check out the hoop size guide to see what size and tubing types might work best for you!
Already know what you're after? Start shopping now to see what we have in stock!