In-school programs,  after school programs and birthday parties — Radiant Life's Intro to Hoop Play program teaches children aged 5-12 hooping basics and breathing techniques that will help them relax and support long workouts. It's a way to get children exercising and developing skills that just feels like 100% play.
According to the American Council on Exercise, hula hooping results in improved cardiovascular health, muscle conditioning, flexibility, and balance, in addition to providing meditative effects.
This makes it a non-traditional, play-based way to unlock major health benefits for children. In addition to that, hooping can support their social and personal development, as they acquire new skills and learn to cooperate on routines.
Programming Services & Intentions
General Overview
Radiant life is an independent, Canadian business specializing in hula-hoop fitness! The Hoop Play program (designed by Katelyn Selanders BA, BSW/RSW, SPRA Group Fitness Leader) is a low-impact, functional fitness program that focuses on building body confidence. Standard hula-hoop fitness techniques and modern hoop dance are used to target core muscles, challenge overall coordination, balance, posture, and stability. Hoop Play is closely related to rhythmic gymnastics and modern dance, but is accessible to the untrained artist and non-physically fit! Hoop Play is a standard fitness training program recognized by Canadian Fitness Education Services (CFES) and members of the National Fitness Leadership Alliance of Canada in Alberta (AFLCA), Saskatchewan (SPRA), and British Columbia (BCRPA).
The school-based programming is facilitated by Laura Hutt (Hoop Play Certified Instructor) and has been described as highly-engaging and high-energy! These creative and active play activities challenge mind-body awareness and fine motor skills and are all non-competitive. Each session ends with grounding breath-work, mindfulness, and "homework". The students can use these to personally manage their health and wellbeing.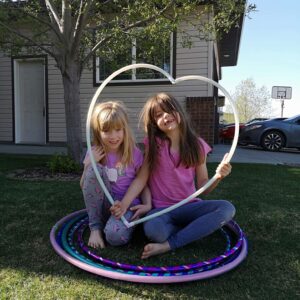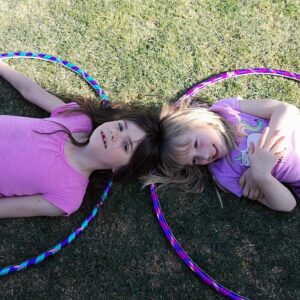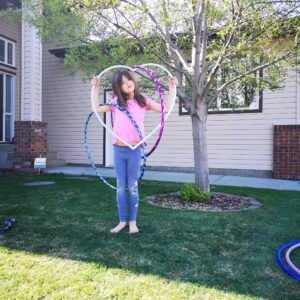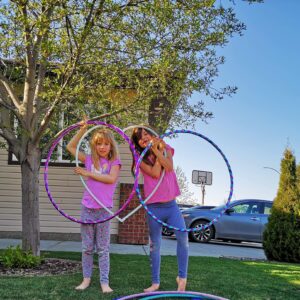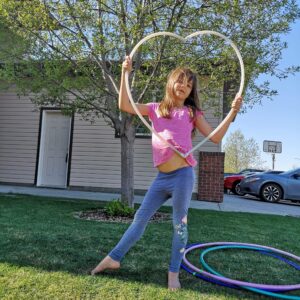 During children's programming, students will practice: walking, running, hopping, jumping, turning, twisting, balancing, bending, stretching, throwing, and catching.
General Learning Outcomes
We have some general learning outcomes for the kids after school programs and birthday parties: All students will learn and practice body and space awareness, non-competitive individual and group play, and physical activity that contributes to overall wellness and confidence. Through both watching/listening and practicing, students will understand and appreciate the positive health benefits that result from physical activity. They will also learn practical ways to assume responsibility for their own health and wellbeing. Students will explore the hoop as a physical boundary and connect the experience with healthy relationships. Grounding breathwork and repetitive movement patterns will be introduced as a practical contributor to mental wellbeing.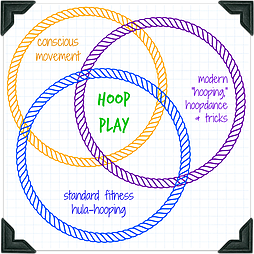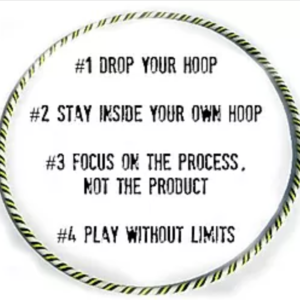 Divisional Learning Outcomes & Activities
Kindergarten to Grade Three:  Students will explore hooping as both a new physical activity and a new artistic medium. Standard waist hula-hooping will be introduced as well as a variety of active games incorporating the hoop. Students will identify their body's reaction to participating; their skills, interests, and preferences with the hoop; and both safe and respectful ways to play with and around others.  
Grades Four to Six:  Students will practice identifying and building patterns with hoop moves. Students will also describe the characteristics of a hoop in space, such as identifying vertical and horizontal planes. Grades four and up will practice reading time on a clock by using a clock metaphor to practice a specific hoop trick. Grades five and up will identify a fulcrum point related to centripetal force. Students will practice waist hula-hooping at a moderate to vigorous intensity level and develop methods of monitoring and controlling their exertion levels with different hoop moves.  
Programming Details & Options
My school day programming is typically 20-60 minutes in length per class, with a maximum of 30 students per session. I request a teacher or school assistant present as well. After school programs are 1 hour 15 min including supervised snack time and lunch time programs run for the duration of the allotted time, including supervised eating if needed. Both lunch time and after school sessions have a maximum of 15 students.
The programming is structured as follows:
If you would like to see booking info and pricing for the after school programs and birthday parties, click book now to head to the shop page