NEXT TRAINING ONLINE:  APRIL 2/3/9 10am – 3pm PST
Curious about hula hoop teacher training? Ready to take your hoop journey to the next level? Get your Hoop Play Teacher Certification! Our training has no prerequisite, but usually, participants are either trained/experienced fitness or dance instructors, avid hoopers, OR highly-motivated, inspired individuals!
Whether you want to safely teach hula-hooping to adults, inspire children of all ages to get active and creative, or learn to teach impressive hoop dance moves and tricks – Hoop Play Certification will get you there! Don't miss your chance to expand your personal practice and business.
CONTACT ME WITH ANY QUESTIONS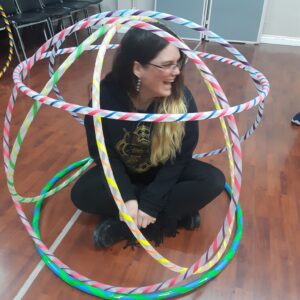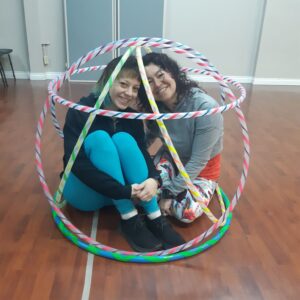 TRAINING DETAILS
Level One Hoop Play prepares participants to teach adult hoop dance, hula-hoop fitness & tricks in a safe and effective way, to average fitness class attendees. Participants learn all of the Level One Hoop Play moves (12 lesson plans), which lay the foundation for modern hoop dance. Successful completion of training includes an industry-recognized Certificate – the required training program to teach hooping in most gyms and leisure centers across Canada!
Level Two Hoop Play includes an advanced skills immersion, adding another 12 lesson plans. A demonstration of Hoop Play with children and families (all-ages) is included and time is spent learning:
How to facilitate kids workshops
Teach hoop flow
Host fusion classes
Specialty workshops, and parties to expand your personal practice and business!
Both Levels One & Two (3 Days in total) are recognized by the CFES, SPRA, AFLCA, MFC, NSFA, OFC & BCRPA.
Training Includes:
Certification Includes: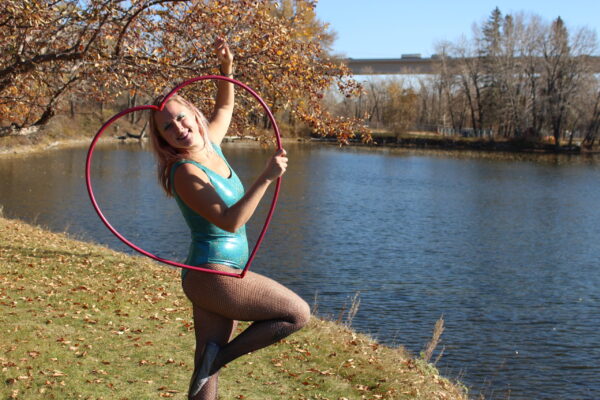 Radiant Life founder Laura Loops has been carrying on a torrid love affair with fire props and hula hoops for 10 years on both a local and international scale.  Learning from award-winning flow artists, this flirtatious affair has lead her career around the world. From the stages of major festivals such as Eclipse, Astral Harvest, and Electric Love; Laura's fun and playful energy has hypnotized and captivated not just crowds but hearts as well.
Her love for performance barely scratches the surface of her passion for connection and contribution. As a Hoop Play certified instructor since 2016, she teaches regular classes, at festivals, retreats, and events all over the Lower Mainland to individuals of all ages and abilities where she is committed to bringing her passion to foster a fun and inclusive learning environment. Spreading love through hoops and growing the community brings Laura a sense of joy and accomplishment.
If you would like to sign up or find out more about hula hoop teacher training, and getting your  Hoop Play Teacher Certification – please get in touch!